Hello Fellow Internet Marketer,

You

KNOW

you need traffic to succeed online!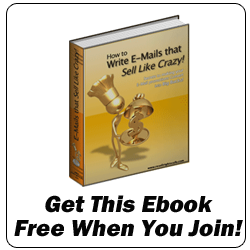 AND...

24-7 Traffic

, can generate plenty of needed traffic for you!

24-7 Traffic has

SO MANY

advertising options, you

WILL

get the traffic you need, and you will get it

FAST

and

FREE!



Join Now! Use

PROMOCODE: 24-7

for a free ad package to really get you started!



PLUS...

when you join today you get this

FREE

Ebook to help with your marketing efforts!

"How To Write E-Mails That Sell Like Crazy!"





Remember 24-7 has many ad options:



*Banners
*Solos
*Surf
*Log In Ads
*Text Ads
*Full-Page Log In Ads
*Premium Ads
*... AND MORE!


Like this... Email 135 Sites with a Combined

Membership of over 86,000 with our Super

Awesome Solo Networks!


Join below NOW! Get Traffic 24-7!


Members Earn Points for Clicking Banners
Members Hotlink : PROMOCODE: RichyRocks
By joining you agree to receive emails from 24-7 Traffic.
You are also agreeing to the rest of our Terms and Conditions.
You can view the list of banned emails here.